Polymer Science 2022
About conference
Erosion invites all the participants from all over the world to attend "8th Edition of International Conference on Polymer Science and Technology" during July 28-29, 2022 at Barcelona, Spain. This includes prompt keynote presentations, oral talks, poster presentations, Workshops and Exhibitions.
| | |
| --- | --- |
| Conference Name | |
| Dates | July 28-29, 2022 |
| Place | Barcelona, Spain |
Polymer Science 2022 is a global overview the theme: "Expedite Polymer Innovation for Solving Covid-19 Challenges" is designed for professionals at all levels and career phases of the plastics industry, on this great gathering, organizing committee invites participants from all over the globe to take part in this annual conference with the theme "Polymer Science 2022" aims at sharing new ideas and new technologies among the professionals, industrialists and students from research areas of Polymer Science, Nanotechnology, Chemistry and Physics to share their recent innovations and applications in various fields and indulge in interactive discussions and technical sessions at the event.
The Conference will also have a space for companies and/or institutions to present their services, products, innovations, and research results.
For more info: https://polymerscience.euroscicon.com/
Target Audience for Polymer Science 2022:
Eminent Scientists/ Research Professors in the field of polymer chemistry, Junior/Senior research fellows, Students, Directors of polymer research companies, Chemical Engineers, Members of Chemistry associations and exhibitors from Polymer Industry/Plastic Industries.
It promotes the positive contributions of Polymers/plastics by:
Sessions And Tracks
1. Polymer Science- The Future: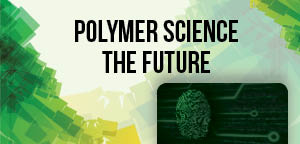 The foremost challenges in the upcoming decades will be the increase in population, the concentration of people in expansive urban centers, and globalization, and the expected change of climate. Hence, the main concerns for humans in the future will be energy & resources, food, health, mobility & infrastructure, and communication.
Many devices in medicine and even some artificial organs are constructed with success from synthetic polymers. It is possible that synthetic polymers may play an important role in future pharmacy, too. Polymer science can be applied to save energy and improve renewable energy technologies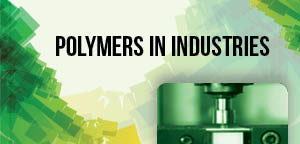 Since the plastics industry has witnessed a spectacular growth over the last six decades, the acceleration in consumption rates of plastics has taken place in several phases since World War II.
In areas of applications of plastics materials, a well-known long-standing example is electrical industries where the excellent combination of properties such as insulation characteristics, toughness, durability, flame retardation capacity has led to increasing acceptance of plastics for plugs, sockets, wire, and cable insulations and for housing electrical and electronic equipment.
Beside metals and ceramics, the study of polymers has currently become a cornerstone of material sciences and engineering. Polymers have the capacity to solve most of the world's complex problems like Water purification, energy management, oil extraction and recovery, advanced coatings, myriad biomedical applications, building materials, and electrical applications virtually no field of modern life would be possible without polymeric materials.
A Polymer Material Sciences and Engineering will provide you with a strong basis in the wide range of issues around structural and functional polymers.
This multidisciplinary course is proposed in conjunction with the School of Chemistry allowing you to gain a rich understanding of both traditional commodity plastics and specialty polymers with increasing in the bio medical application and pharmaceutical industry, and in electronics and nanotechnology.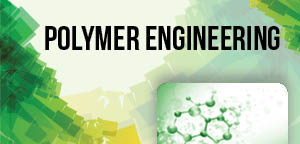 Polymer engineering is an engineering field that designs, analyses, or modifies polymer materials. A Polymer is a large molecule or a macro molecule which essentially is a combination of many subunits.
The term polymer in Greek means 'many parts. Polymers are all created by the process of polymerization wherein their constituent elements called monomers, are reacted together to form polymer chains i.e., 3-dimensional networks forming the polymer bonds.
Materials of Engineering refers to selecting the correct materials for the application in which the engineered part is being used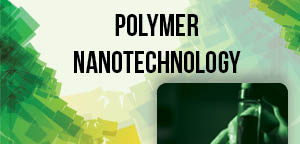 The field of Nanotechnology is one of the most popular areas for current research and development in basically all technical disciplines. This obviously includes polymer Nanotechnology which include microelectronics.
Other areas include polymer-based biomaterials, Nano medicine, Nano emulsion particles; fuel cell electrode polymer bound catalysts, layer-by-layer self-assembled polymer films, electro spun nanofabrication, imprint lithography, polymer blends and Nano composites.
Nanotechnology is not new to polymer science as prior studies before the age of nanotechnology involved Nano scale dimensions but were not specifically referred to as nanotechnology until recently.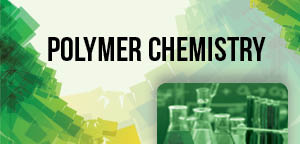 Polymer chemistry is combining several specialized fields of expertise. It deals not only with the chemical synthesis, Polymer Structures and chemical properties of polymers which were esteemed by Hermann Staudinger as macromolecules but also covers other aspects of Novel synthetic and polymerization methods, Reactions and chemistry of polymers, properties and characterization of polymers, Synthesis, and application of polymer bio conjugation and Polymer Nano composites and architectures.
According to IUPAC recommendations, macromolecules are considered relevant to the individual molecular chains and are the domain of chemistry. Industrial polymer chemistry has particular attention on the end-use application of products, with a smaller emphasis on applied research and preparation.
7. Composite polymeric materials: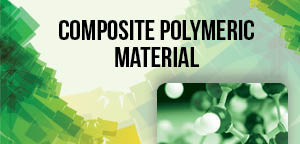 Composite material is a material made from two or more constituent materials with significantly different physical or chemical properties that, when combined, produce a material with characteristics different from the individual components Polymer composites are high-performance composites, framed using 3Dfabric reinforcement and shape memory polymer resin as the matrix.
In consideration of shape memory polymer resin used as the matrix, these composites gain the potential to be easily engineered into variety of configurations when they are heated above their activation temperatures and will exhibit high strength and stiffness at lower temperatures.
Polymer technology has an effective impact in developing advanced polymeric materials which are useful in day-to-day life.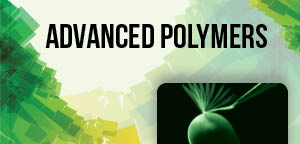 Polymer science has always been research strength from thermoplastics to copolymers, thermosets to interpenetrating polymer networks, specialty polymers to composites and Nano composites.
Through the period of three decades highly developed or complex polymer composites have come into existence as an attractive construction material for new structures and the strengthening/rehabilitation of currently existing buildings and bridges.
In terms of revenue, the global advanced polymer structures market was valued at US$ 7.47 in 2013 and is expected to reach US$ 12.12 by 2020, expanding at a CAGR of 7.2% from 2014 to 2020.
9. Role of polymers in biology and biological systems:
Biological macromolecules which are necessary for life include carbohydrates, lipids, nucleic acids, and proteins. These are the important cellular components and perform a wide array of functions necessary for the survival and growth of living organisms. These play a critical role in cell structure and function.
Protein polymers are available in large quantities in biology, and a huge variety of distinct filaments can be found and Protein misfolding can be a route to pathological polymerization in diseases from Alzheimer's to Parkinson's.
The global biomarkers market is expected to reach US $45.55 Billion by 2020 from $24.10 Billion in 2015, at a CAGR of 13.58% through 2015 and 2020.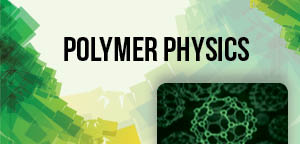 Polymer physics is the branch of physics which deals with polymers, their fluctuations, mechanical properties, polymer structures and with the kinetics. Polymer physics encloses the physical properties, structure, and dynamics of polymers (both synthetic and naturally occurring) in various forms including semi-crystalline solids, glasses, elastomers, gels, melts, and solutions. Basic phenomena are of interest in accordance with the applications of polymers in technologies, such as optoelectronics, photovoltaic, coatings, composites, medicine, food and pharmacy and tissue engineering.
11. Bioplastics and Biopolymers: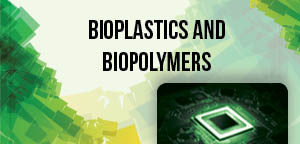 Bioplastics are those types of plastics where carbon is derived from renewable feed stocks. They may be biodegradable or may not be. Basically, Bio based plastics are consist of both fossil-fuel-based carbon and renewable.
The percentage of bio-based ingredients are used is over 70 now a days. Plastics materials are utilized overall today for huge number of utilizations. Most of these plastics are gotten from oil and are not biodegradable.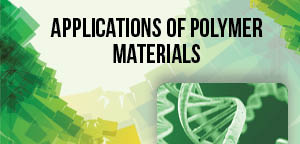 Polymers are a highly diverse class of materials which are available in all fields of engineering from avionics through biomedical applications, drug delivery system, bio-sensor devices, tissue engineering, cosmetics etc. and the improvement and usage of these depends on polymer applications and data obtained through rigorous testing.
The applications of polymeric materials and their composites are still increasing rapidly due to their below average cost and ease of manufacture. This in turn fuels further development in research.
13. Polymers in wastes and their environmental impact: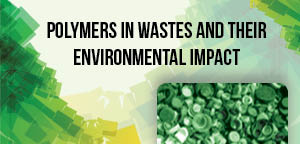 The traditional polymer materials are available today, especially the plastics, which is the result for decades of evolution. Their production is extremely efficient in terms of utilization of raw materials and energy, as well as of waste release.
These products show an excellent property like impermeability to water and microorganisms, high mechanical strength, low density especially for transporting goods, and it is low-cost due to manufacturing scale and process optimization.
Polymers /plastics square measure made by with chemicals linking one or additional "link" chemicals to provide long chains of powerfully connected chemicals known as polymers. They are used for manufacturing consumer merchandise, like coatings, lubricants, goods, aerospace, building materials etc.
The selling strategy sets your selling goals, defines your target markets, and describes. However, you'll act positioning the business to realize advantage over your competitors. The selling combine, who follows from your selling strategy, is however you attain that 'unique commercialism proposition' and deliver advantages to your customers.
15. Polymer Synthesis and Polymerization:
Polymer's synthesis determines the molecular structure, and it will help us to avoid side reactions and achieve a worthy product. Polymerization polymers can be of many types. First one is the Chain growth polymerization and second is Step growth polymerization.
In chain growth, polymerization is activated by the activation of neighboring monomers of a monomer. High molecular weight polymers are obtained quickly with a rapid process of chain growth polymerization. On the other hand, in step growth polymerization, bi functional monomers are combined in a systematic approach to build covalent bonds. In this process molecular weight increases slowly and in step wise.
16. Polymers in Everyday Life:
Futures of Biopolymers demand the manufacturer for brand spanking new materials is overwhelming. Applications by the utilization of latest materials ought to utilize the properties of these polymers, and additionally the product ought to be developed based on those properties
Synthetic polymers have since associate extend time compete a comparatively vital role in current medicative observations. Polymers occupy an outstanding role during this trendy living. From the toothbrush, lunchboxes, toys, pens etc., a lot of products are being used every day. It is fascinating when we understand the polymers and its utmost functionalities.
17. Polymers for Drug Delivery:
Perhaps areas of research advancing the frontiers of drug delivery. Polymers have contended Associate in Nursing integral role among the advancement of drug delivery technology by providing controlled unhitch of therapeutic agents in constant doses over long periods, cyclic quantity, and tunable unhitch of every hydrophilic and hydrophobic drugs.
Throughout this review, we've got a bent to spotlight the essential drug delivery systems and their mathematical foundations and discuss the physiological barriers to drug delivery.
"Polymeric biomolecules" or the Biopolymers are polymers fictitious by living organisms. Polynucleotides, Nucleotides and Polypeptides are the 3 main categories of polymers those are known as long polymers.
The difference between biopolymer and synthetic polymer can be founded in Structure. compare to biopolymer synthetic polymer has much simplest structure.
All biopolymers are alike that all of them contain the similar sequences and numbers of monomers and so all have an equivalent mass.
19. Polymer Degradation and Stabilization:
Polymer's synthesis determines the molecular structure, and it will help us to avoid side reactions and achieve a worthy product. Polymerization polymers can be of many types.
First one is the Chain growth polymerization and second is Step growth polymerization. In chain growth, polymerization is activated by the activation of neighboring monomers of a monomer.
Polymer production desires manufacturing equipment's that possess an outsized vary of flexibility operational. Reactors are required to be operated at varied temperatures that need a heat transfer fluid system around that's used for each heating and cooling.
This sort of warmth transfer system configuration works best once one fluid will be accustomed effectively transfer heat over the entire temperature vary mere.
Inside the Polymer composites, polymers are used as binders to carry the infused particles and fibers in situ.
21. Polymers for Emerging Technologies:
Polymers are multifaceted materials. This feature of polymer facilitates the people to manipulate the properties and behavior of the polymers according to the requirement in the application area. This makes possible to provide a way to made polymer as a part in many trending inventions in medical, scientific, bio medical and electronics fields. In all such fields scientist have been combine the molecules of the polymers with other functional substances and produce a new featured polymer with desired features and properties.
Rheology laboratory testing of polymers to determine the rheological (flow) properties of materials, gels, and pastes, to optimize process and properties. Polymer physics testing is that the study of however the strain during a material or force applied is said to deformation and flow of the fabric.
Understanding the rheological properties of polymers through laboratory testing will help to optimize products and process conditions, thereby saving prices and minimizing potential waste.
23. Recent Advances in Polymer Chemistry:
Polymer drug conjugates play a crucial role in the delivery of drugs. In the polymeric drug conjugates, the bioactive agent is combined covalently with chemical the substance to realize the efficient delivery of bioactive agents with in the required or specific period beside the improvement of porosity and retention time.
Plastic packaging for food and non-food applications is non-biodegradable, and additionally uses up valuable and scarce non-renewable resources like fuel.
Conference Highlights
KEYNOTE SESSIONS
Oral presentations
Young Researcher Forums
Poster Presentations
Video Presentations
E-poster Presentations
Honorable Guests Presentations
Exhibitions
Felicitations
Free Lunch
Questionnaires
Market Analysis
Polymer Science 2022 is the podium to progress and outsource the knowledge in the new technological advancements in the field of Polymer Science and Engineering. This conference brings together professors, researchers, scientists, students in all the areas of Polymer Science and provides an international gathering for spreading the approved research. We are honored to invite you all to attend and register for the "8th International Conference on Polymer Science & Technology (Polymer Science 2022)" which is scheduled for July 28-29, 2022 at Barcelona, Spain.
We cordially invite you to join us at the Polymer Science 2022, where you will be sure to have a meaningful experience with scholars from around the world. All members of the Polymer Science organizing committee look forward to meeting you in Barcelona, Spain.
For more details please visit: https://polymerscience.euroscicon.com/
Polymers plays a key role in our lives because of its uniqueness in properties and extended application in industries, packaging, sports, medicine, perfumes and preservatives, plastics, fuels, toys etc. Plastics are also used in the manufacture of Prosthetic devices and surgical equipment. The use of Polymers and composite polymers could noticeably increase as more durable versions are developed, and the cost to manufacture these bioplastics and composites continues to go fall. Plastics can replace conventional plastics in the field of their applications also and can be used in different sectors such as food packaging, plastic plates, cups, cutlery, plastic storage bags, storage containers or other plastic or composite material items you are buying and therefore can help in making environment sustainable.
Polymers have wide application in industries like aerospace, automobile etc. It also finds application in specific products like fishing rods, bicycle, sports equipment etc. Polymer engineering consists of many aspects of petrochemical industry and polymerization. Polymer engineering covers many aspects related to chemical engineering. Plastics are also used in the manufacture of Prosthetic devices and surgical equipment. The diversity of use is growing day by day. Many Polymer processing societies have been developed in recent years. The aim of these societies is to foster scientific understanding and technical innovation in polymer processing by providing a platform forum for the worldwide community of engineers and scientists in the field.
Spain, the country of fiestas and festivals! Every village, no matter how small, has its own, unique celebrations. But which ones are not to be missed this year? We've listed the 13 best events and Spanish festivals for this year! Are you ready to celebrate your holiday the Spanish way?
Looking for an event company in Barcelona? If it's in your list for coming events but still have your doubts, you want to keep reading. There are many things that go in Barcelona's favor. Her mild climate, plethora of hotels and beautiful coastline are key to that success. But delicious and affordable food add even more. Her seduction as an ideal destination becomes an epic love affair for companies far and near. Professionals around the world can come to her to connect and recharge. It becomes an easy decision where to hold your company's next meeting or event.
International Conference on Polymer Science and Technology-2022 which is going to be the biggest conference dedicated to polymer science professionals providing a premier technical forum for reporting and learning about the latest new generation technologies developed during time along with discussing their applications. Events include hot topics presentations from all over the world and professional networking with industries, leading working groups and panels.
Glance at market of Polymer Science :
The plastics industry shapes the world we live in today whether it is industrial, technological or commodities used on a regular basis. Recent research has been carried out which covered a wide spectrum of plastics including materials, additives, processes, applications, and inter materials. Polymers, resins, coatings, films, and composites are major areas of the plastics market covered. Quality market analysis, forecasts and trends determined from key market drivers help shape the future of the plastics industry.
Estimated global Polymer Market Growth Rate by 2023:
The Global High Performance Polymers Market is poised to grow at a CAGR of around 6.5% in the next 3 years to reach approximately $8.8 billion by 2023. The study focuses on market trends, leading players, supply chain trends, technological innovations, key developments, and future strategies. The report provides comprehensive market analysis across four major geographies such as North America, Europe, Asia Pacific, and other parts of the world
Past Conference Report
The "7th International Conference on Polymer Science and Technology" was held on September 13-14, 2021 conducted as webinar (online event) with the presence of professional researchers, scientists involved in the development of high-quality education & research in all aspects.
Polymer Science 2010 witnessed an amalgamation of peerless speakers who enlightened the crowd with their knowledge and confabulated on various topics related to the field of Polymer Chemistry. The highly exalted conference hosted by erosion was marked with the attendance of renowned and brilliant researchers, business delegates and talented student communities representing more than 20 countries around the world. The conference has tried grounding every aspect related to Polymer Chemistry, covering all the possible research areas.
The conference aimed a parallel rail with theme "Expedite Polymer Innovation for Solving Covid-19 Challenges". The meeting engrossed a vicinity of cognizant discussions on Polymer Science -The Future, Polymers In Industries, Polymer Material Science, Polymer Engineering, Polymer Nanotechnology, Polymer Chemistry, Recent Developments In Polymer Synthesis, Composite Polymeric Material, Advanced Polymers, Role Of Polymers In Biology And Biological Systems, Polymer Physics, Bioplastics And Biopolymers, Polymer Rheology, Applications Of Polymer Materials, Smart & Functional Polymers, Polymers In Wastes And Their Environmental Impact, Polymers In Petroleum Industries, Polymers In Everyday Life, Polymers For Drug Delivery System, Biopolymers & Biomedical Engineering, Polymeric Compounds, Polymers For Emerging Technologies, Polymeric Materials. The two days event implanted a firm relation of upcoming strategies in the field of Polymer Chemistry with the scientific community. The conceptual and applicable knowledge shared, will also foster organizational collaborations to nurture scientific accelerations.
We are thankful to all our speakers for encouraging and supporting us to conduct the conference and catapulting the same to pinnacle of success.
We would also like to thank our Poster judge Tsukasa Miyazaki, Comprehensive Research Organization for Science and Society (CROSS), Neutron Science and Technology Center, Japan for the evaluation of Poster Presentations.
The meeting was embarked with an opening ceremony followed by Keynote Sessions and followed by series of lectures delivered by Honorable Guests and members of the Keynote forum. The highlights of the meeting were the eponymous lectures, delivered by:
All of them provided their fruitful contributions in the form of highly informative presentations and made the conference a top notch one.
Erosion is prerogative to thank the Organizing Committee Members, Keynote speakers and Chairs on transcribing the plenary sessions and workshop in a diversified and variegate manner to make this conference an enviable artifact.
Erosion offers its heartfelt appreciation to our Exhibitor "Physical Electronics GmbH, Germany". We also express our sincere thanks to all the media partners for the promotion of our event to glory.
With the grand success of Polymer Science 2020, we are glad to announce our next upcoming conference "8th International Conference and Exhibition on Polymer Science and Technology" which is going to be held in Barcelona, Spain during July 28-29, 2022.
Hoping to meet you again coming year at Berlin, Germany!!!
Learn More
Leibniz Institute of Polymer Research Dresden | Postnota Analytics GmbH | Add link software scientific | Polymer Conferences USA 2020 | CK Polymers | Advanced Technologies Center ATC | Polymer Conferences | Magpie Polymers | Living Cell Technologies | Micro-Bio-Polymer Company | Evolve Polymers Limited | Merci Ltd | Quick step Technologies | VSPC could | War sash scientific | Polymer Conferences | AQUANOVA AG | Gyros | Membrane Process Separations | EPC Engineering Consulting GmbH | VIP Polymers Ltd | endure Technologies | Ingenui Polymers Corp. | Quick step Technologies | Gioco Solutions Sr l CETCO Energy Services | Dr. Jens Nearing | Polymer Conferences | POLYMERS & COLORS S.A. | NOXON AB | HETA Verfahrenstechnik GmbH | Polymer Characterization, S.A | Aquamarine micro filtration | Triple Benefit | Fuglsang's AS | Ceramic Polymer GmbH | CCM | Recycling Technology Ltd | ASM International | Aquafeed Engineering Limited | General Polymeric Recycling Albania | Fine Oy | Mart Donum | Vanadium | Dermic | Universal HDD | SABIC | European Plastics Recyclers | DSM solos | Polymer Conferences USA 2020 | Buss-SMS-Candler GmbH | HQ graphene | Aquafil Spa | MEA Water Management GmbH | IME Technologies | JUTA a.m. | KRIYA Materials | Holst Centre | TriTech Inc | Industrial Rubber Limited | Hibas Pipe USA | CPS Instruments | Schuft Federoff | Photonic Cleaning Technologies, LLC | Micron technologies | 2DTECH | 3M ESPE | AHS | agar scientific | SUMI Recycling | Applied graphene materials | Aquila instruments | Solvay S.A. | Chained Labs | BBI solutions | Becchi U.R.L.. | Bio Polymer consulting | Digizines 3D Tomography Software Solutions | Prester | Applied Felts Inc. | Static AG | Cambridge Display Technology | Carbonite gyro | Renishaw apply innovation | Dolomite | Elliot Scientific solution science for research and industry | Element six | HEG Engineering GmbH | C L Rye Trading Ltd. | Edinburgh Instruments | Durham | Magneto optics Ltd | Antara Limited | Hutchinson Worldwide | Euro hem specialist chemicals | Boiling Scientific | Fischer Instrumentation | Ad-particles | CIAs | Avanade | Polymer Conferences USA 2019 | Izawa scientific | Gemini Israel Ventures | Nidetch Innovations | Graphene Tech | Auto Car Brands | ABC-Miljø | Leblon auto | WTS Global | BR Automation | AGM Automation System Inc | AGI Automation Components | Avenin | Kobus | CS Instruments | Cordovan Technologies | Malvern Instruments Ltd | Huntsman Advanced Materials | Bukowski pub Industries | Fulgent Smart Microfluidics | Digital Surf Birds Contract Services | Silvio | Shaback SFD GmbH | Ceram sphere Ltd | Marion Technologies | LIST Technology AG | General Industries | ABCR supplies Ltd. | https://polymerscience.euroscicon.com/| AIXTRON | Buhler | Polymer Conferences USA 2020 | Bayer Crop Science AG Bio Gate | BIONI | BYK | Polymer Conferences | Additives Instruments | Coral Products | Bayer Crop Science AG | Bartels | BASF | Cardmember | Umicore S.A. | Umicore Recycling Solutions | Contech | B-Team Corrosion Protection | DYESOL | Zeiss | Quadrant EPP UK Ltd | Advanced Magnetic Technologies & Consulting Group | Concern Polymer industry | Interface Ltd | NT-MDT | Russian Corporation of Polymer technology | A.P.E. Research | Peroxyl Chem | LyondellBasell | Direct Plus | Linaria Biomedical | MBN | Mind seeds Laboratories | Organic Spintronics | Plasma Diagnostics and Technologies | SCRIBA | Dimple-t Bulk Solids Cooler | Iman Plastics Minakari San | Silicon Biosystems | First Water Limited | Xenia Materials | Collaborative Centre for Applied | Din works OY | PLIN | Deric Fluidics | Polymer Diamond Products | Sire Geotech U.R.L. | Particular Sciences | BeaulieuTechnicalTextiles | Provirus | Sampis | Plus | Kunststofftechnik | ACO Group | ABB Groups | Trelleborg Forehead Pipe Seals | Smithers Rapa | Buhler Group | Novo Polymers NV | Polymer Conferences USA 2019 | Kiss Soft | Greater Zurich area | NBM | Optical Additives | PSI | Solectron | Agfa | CMI Group | Waters Smart Innovations | Tec Concept | Silex micro Systems | Polymer Conferences USA 2019 | PFSW | BASF | Ektaras | UAB | Bredekamp Technologies GmbH | ECO Engineering Ukraine LLC | Polymer Conferences |
Angstrom Engineering | Braskem | Dow Chemical | A&A coatings | Sinopec | Praxair | 30 SK Innovation | LG Chem | ACS Materials | SABIC | Innovative Bioceremix,Inc | Arkema | ADA technologies | Asahi Kasei | Mosaic | Ade 10 Angstroms | LANXESS | Huntsman Corp.| Advanced Diamond Solutions | Indorama | AEB | Sasol | Advanced Energy | Polymer Conferences Europe 2019 | ExxonMobil | Borealis | Advance TEC | ADVANO | Polymer Conferences Europe 2019 | Adeniran solutions | Siam Cement | DIC | Eastman Chemical | Air Liquide | Aegis Technologies | LyondellBasell Industries | Hanwha Chemical Formosa Plastics | 3D systems | DSM | PTT Global Chemical | American Dye Source, Inc| Bayer | Polymer Conferences USA 2019 | Tosoh | Syngenta | DuPont | CEMEX Technologies Inc | AkzoNobel | Shin-Etsu Chemical | Polymer Conferences USA 2019 | Advance Reproductions | Advanced optical technologies | Indigo Instruments | Applied Polymer tools Inc. | PPG Industries | Chevron Phillips Chemical | Polymer Conferences |
Postdoctoral Researcher in Polymer Chemistry and Materials Group | Senior Researcher Optical | Team Leader jobs Physical Design | Design Automation and Mask Data Preparation | Program Manager jobs | R&D Engineer Career Wet etch/clean | Process Integration Engineer FEOL | Postdoc Project leader | Process Engineer Device Fabrication Career | Polymer science postdoctoral positions Career | Senior Scientist - Dynamic Materials Response career | Polymer science postdoctoral positions Jobs | Control of the Polymer mechanics of Viral and Bacterial Infections jobs | Assembly Technician Jobs | Postdoc Jobs in Silicon micro- and Polymer fabrication for catalyst studies | PhD position in the Polymer Chemistry Group Jobs | MEMS Operations Director Jobs | Director of Polymer technology Jobs Core Facility | Manager, Microelectronics Fabrication Laboratory Jobs | Physical Scientist – Polymer technology Career | Lecturer career in Experimental Condensed Matter Physics | Computational Chemist Career | Image Sensor Measurement Set-up Development Engineer jobs | Senior Process Integration Engineer Wafer Fabrication Jobs | Production Technician Career | Team Leader Jobs Imager Design | Senior Process Engineer CMP and Plating | Postdoc on Quantum Computing | Postdoctoral Researcher Jobs on Mixed Signal Circuit Design for Quantum Computing | Development Chemist Jobs | Senior Memory Architect Career | Polymer particle characterization in complex media Jobs | Summer Jobs at the Department of Electronics and Polymer engineering Jobs | Polymer scientists Jobs | Postdoc of Materials Science Jobs | Polymer Conferences 2020 | Project Leader Jobs | Senior Photonic Researcher Jobs | PhD studentship career | R&D Technician – Polymer technology Jobs Postdoctoral Position in Molecular Biology career | Process Engineer Jobs (OMJ/MC) | Doctoral Student in Polymer technology Jobs | Postdoctoral Research Fellow Jobs | Post-doctoral positions Career in Statistical Learning | Lecturer Jobs in Neutrino Physics | Senior Physicist / Magnet Engineer Jobs | Mechanical Engineer Jobs | Polymer Conferences Europe 2019 | Research Scientist Jobs Molecular and Material Sciences | Research Associate Jobs in Electrochemical Bio sensing | Research Associate - Polymer Chemist | Senior research associate: quantum annealing experiment | Research Facility Manager Jobs | Associate Principal Design Engineer Jobs | Lecturer or Senior Lecturer in Chemical Engineering Jobs | Product Development Scientist Jobs | Manufacturing Technician | Research Assistant Jobs in Single Molecule Polymer technology Jobs | Associate or Senior Editor Jobs Nature Polymer technology | Polymer Conferences
POST DOCTORAL RESEARCH ASSOCIATE Jobs | EUV Lithography Engineer Jobs | Polymer Conferences 2020 | Research Associate Career -Fixed Term | Post-Doctoral Scholar Jobs – Materials Photo physics | Structural Biologist | Professor of Polymer engineering | Post-Doctoral Research Fellow Jobs | Cancer Immunotherapy Interdisciplinary Post-Doctoral Career | Laboratory Technician Career | Materials Scientist Jobs | RESEARCH SCIENTIST Jobs | Staff Scientist Jobs - Assay Development | Research Facility Manager Jobs | Director, Center for High Technology Materials career | Instructor, Mechanical Engineering Jobs | Assistant Professor Jobs in Mechanics and Design | Subject Matter Expert Scientist – Polymer technology Jobs | Polymer Conferences Europe 2020 | Faculty Position- Emerging Technology Jobs | Photonics System Integration Engineer Jobs | Met materials/Met surfaces Postdoc Jobs | Assistant/Associate Professor Career of Pharmaceutics | Tenure Track Assistant/Associate Polymer bioscience Professor career | Polymer material jobs | Analytical Characterization Fellowship – CDER Career | Assistant Professor Career | Polymer Conferences 2020 | EUV Simulations Engineer - TD Research Jobs | Research Associate Jobs | Principal Scientist Jobs | Polymeric Nanoparticle Formulation | Postdoctoral Research Career Staff Member –Polymer Jobs | Research Specialist Career | Tenure-Track Faculty Position | Inorganic/Materials Chemistry Jobs Associate/Full Research Professor jobs of Polymer fabrication | Assistant Professor –Polymer technology Jobs | Molecular Biologist Career | Post-Doctoral Scientist Jobs Audio Laboratory Assistant Career | Assistant Professor/Associate Professor Jobs | Polymer science | Research Scientist Jobs | Scientist / Research Career & Development | Materials Scientist/Engineer Jobs | Polymer material Research Career Assistant at EPA | Assistant/Associate Professor Jobs REVISED | Staff Scientist Career | Polymer Conferences | RESEARCH SCIENTIST/ENGINEER Jobs | Associate Scientist Jobs II | Professor of Polymer technology and material science | Senior Associate Polymer | Polymer Conferences Europe 2020
Polymer science | Journal Acta Materialman | Journal of Macromolecules | Journal of Polymer Chemistry | Bio macromolecules | Advanced Materials | Current Opinion in Colloid and Interface Science | Macromolecular Rapid Communications | Polymer Today | Polymer Reviews | Advanced Functional Materials | Journal of Physical Chemistry Letters | Small Biomaterials | Polymer Research | Polymer Conferences 2019 | European Polymer Journal | Carbohydrate Polymers | International Journal of Adhesion and Adhesives | Macromolecular Materials and Engineering | Plasma Processes and Polymers | Reactive and Functional Polymers | Polymer Conferences Europe 2019 | ACS Applied Materials & Interfaces | Lab on a Chip - Miniaturization for Chemistry and Polymers | Journal of Polymer Science, Part A: Polymer Chemistry | Journal of Polymer Science, Part B: Polymer Physics | Journal of Bioactive and Compatible Polymers | Materials Science & Engineering | Structural Materials: Properties | Wiley interdisciplinary reviews | Polymer Science - Series C | Polymer Journal | Journal of Industrial Textiles | Polymer Degradation and Stability, Biology, and Medicine | Polymer toxicology | Polymer medicine | Micro porous and Mesoporous Materials | International Journal of Polymer Analysis and Characterization | Polymer Testing | Macromolecular Bioscience | Bio microfluidics Biosensors and Bioelectronics | Journal of Physical Chemistry | Clothing and Textiles Research Journal | Reviews on Advanced Materials Science | Microelectronic Engineering | Biomedical Micro devices | Rubber Chemistry and Technology | Polymer Conferences 2019 | Food Packaging and Shelf Life | Journal of Micromechanics and Micro engineering | Journal of Materials Science and Technology | Journal of Cellular Plastic | Physical E: Low-Dimensional Systems and Polymer Science | Nature Polymer technology | Materials Express | Macromolecular Chemistry and Physics | Exploring metal organic frameworks for energy storage in batteries and super capacitors | Polymer Conferences Europe 2019 | Precision Engineering | Polymer International | Advances in Heterocyclic Chemistry | Advances in Polymer Science | Polymer Engineering and Science | Colloid and Polymer Science | Journal of Polymers and the Environment | Polymers for Advanced Technologies | Polymer Composites | Textile Research Journal | Journal of Applied Polymer Science | Chinese Journal of Polymer Science (English Edition) | Polymer Conferences 2019 |
Polyamide | Polymer film | Polymer Conferences 2020 | High-density polyethylene | Phenol-formaldehyde resin | poly-p-phenylene-2,6-benzobisoxazole (PBO) | Surf Pore | Cerium oxide | Low-density polyethylene | Meta-aramid polymer | ZERODUR K20 | REWITEC Coating | Para-aramid | Co polyamide | Polymer Conferences Europe 2020 | Polypropylene | Polymer Polish | Plimer | Polyacrylonitrile (PAN) | Polymer Conferences Europe 2019 | Polychloroprene | Acrylates | Thiols | Hydroxyls | Polyethylene terephthalate film | aromatic polyester | Polytetrafluoroethylene (PTFE) | Orange Oil Rubber | Polystyrene | Polymer based solar cells | Polyamide 11 & 12 | Para-aramid fiber | Polymer Conferences 2019 | Thermoplastic polyurethane | Polyvinyl chloride | Teflon | Polymer ceramic | Polymer Conferences